Reading Time:
3
minutes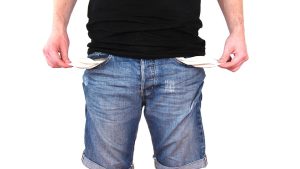 Decades of research have made it clear that Testosterone Levels have a strong impact on male behavior and psychology. It's long been hypothesized that Testosterone has links to aggression, confidence, and assertiveness, but our understanding of those connections has strengthened over the last generation. Recent studies show how men's Testosterone Levels are linked to salary, risk-taking, potential for empathy, and more. A recent study sought to discern how Testosterone Levels are associated with a man's employment opportunities after losing his job.
Unemployment Can Be One of the Largest Setbacks a Man Faces
In this age of downsizing, temp employment, and other sources of job instability, it's important to investigate the factors which both boost and limit a guy's job prospects upon unemployment. Studies have shown that getting fired or laid off can be one of the worst feelings men experience. For some men, losing one's job is a bigger blow than a divorce or even a spouse's death.
A man's worth is largely defined by his contribution to society and/or his ability to provide for himself and others. It's very dangerous to most men's health and well-being to be without a job for very long. There is a correlation between extended unemployment and increased mortality, suicide risk, and drug/alcohol abuse.
Sadly, many men find that their jobs are expendable. It's far too common for men to be fired or laid off with little cause in the United States. Ten percent of employees are laid off annually, so a huge proportion of men have experienced or will experience a long period of joblessness in their lives.
Examining Link Between Low-T and Joblessness
The scientific journal Economics and Human Biology is focused on discovering the solutions to these problems. Modern surveys in the social sciences increasingly include hormone testing and other forms of biological information to provide more data for investigation.
A recent study published in the journal uses the collection of Testosterone Levels in the United Kingdom Household Longitudinal Study to learn more about how the critical hormone impacts men's ability to bounce back from job loss. The lead author of the study was Peter Eibich, who works for the Max Planck Institute for Demographics Research in Germany. While a lot of this information has been collected, it's only very recently that it has been explored in this manner.
Eibich is interested in how Testosterone interacts with employability because previous studies have shown that Testosterone has modulating effects on personality tendencies that are associated with job success, like a willingness to achieve dominance or status through risk-taking.
Higher Testosterone Men Less Likely to Be or Stay Unemployed
He and his fellow researchers examined two waves of the Longitudinal Study, collecting data from 2115 men from 25-64 who had both their employment and their Testosterone information made available. Men without jobs during the first examined wave were more likely to have a job by the next wave if they had average or higher Testosterone.
Eibich believes that this data provides evidence that guys with robust Serum Testosterone were more insulated from unemployment and less likely to be stuck without a job. His team hypothesizes that behaviors and traits associated with high Testosterone make it easier for men to keep and retain a career. This study only took Testosterone Levels from a single data point from two waves of a single longitudinal study. Future research could test selected patients more frequently to provide stronger results.
Consider Taking Steps to Bolster Testosterone Levels for Your Health and Your Life
Testosterone Levels aren't entirely genetic; you have a good amount of control over your own Testosterone Production. By being proactive, you can improve your psychological well-being and confidence and enhance your value as a current or potential employee. Testosterone is just a single factor among many that are associated with your job prospects, but a lifestyle that supports healthy Testosterone is a boon for good health and high quality of life! Testosterone Therapy may even be an option if you have particularly Low Testosterone!
Contact Us For A Fast And Professional Response