Reading Time:
4
minutes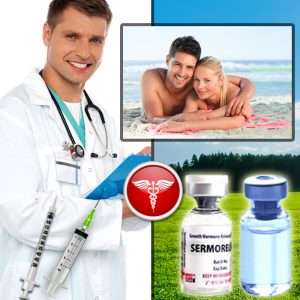 Does Sermorelin Work?
If you've made it to this page, then odds are you've at least heard of Sermorelin Acetate.
Sermorelin is often touted as an alternative to Bio-Identical Human Growth Hormone Therapy.
Let's take some time to talk about Sermorelin in more detail and outline how and why Sermorelin is an effective means to boost Growth Hormone Levels and overcome Age-Related HGH Deficiency.
How Does Sermorelin Boost HGH Levels?
Sermorelin works because it was derived from a hormone known as GH-RH or Growth Hormone-Releasing Hormone. Sermorelin was synthesized from GH-RH as a means to stimulate HGH Production via pituitary stimulation using recombinant-DNA technology.
Sermorelin was first formulated in the 1970s when it was invented and patented under the name Geref. Its widespread use for Adult-HGH Deficiency did not occur until the turn of the century, and it remains a popular choice for Hormone Therapy today.
Unlike Bio-Identical Human Growth Hormone, Sermorelin is not a perfect replica of GH-RH — It is what is known as a Functional Analog. Sermorelin has an identical effect on the pituitary function as GH-RH; it merely lacks the superfluous junk-Amino Acids, which serve no purpose.
Creating a truncated form of GH-RH saves time and money, which is passed onto the patient.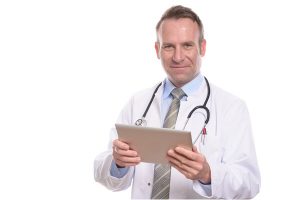 Sermorelin, like its parent hormone, activates tiny organs in the pituitary called somatotrophs.
These somatotrophs are ultimately responsible for secreting Human Growth Hormone. Like Bio-Identical HGH, Sermorelin is administered once daily, usually five days per week, to combat the negative health symptoms of Human Growth Hormone Deficiency.
What are the Benefits of Sermorelin Acetate?
For patients with Adult-Onset HGH Deficiency, the benefits of Sermorelin Therapy can be tremendous. Sermorelin can help patients improve their psychological profile and energy levels while promoting weight loss and increased muscle tone and mass.
It also increases exercise capacity and improves healing while strengthening the immune system. Sermorelin provides the same great benefits as Bio-Identical Human Growth Hormone, just via a different underlying mechanism.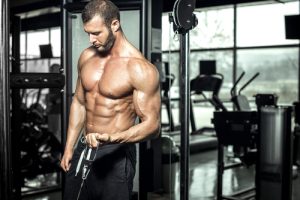 Sermorelin Acetate Won't Work for Everyone
Recombinant Sermorelin Injections work individually for patients suffering from Secondary Hypopituitarism in which the pituitary gland remains healthy and functional.
Fortunately, most patients that suffer from Adult-Onset HGH Deficiency still retain the capability to produce natural Growth Hormone. For men and women affected by Somatopause, the underlying cause of declining HGH Levels is a gradual decrease in the production of GH-RH by the hypothalamus, which can be corrected with Sermorelin Acetate.
Where Can I Find Sermorelin?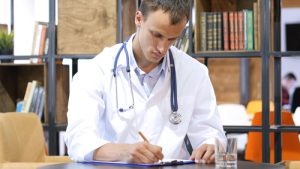 Sermorelin is available at Specialty Hormone Pharmacies and is available with a prescription.
To obtain an order, you'll have to make an appointment with a physician, preferably at a Hormone Clinic, which specializes in treating Hormone Deficiency and Imbalance.
To be approved for Sermorelin, you'll most likely have to undergo bloodwork to analyze your Human Growth Hormone Levels.
Under most circumstances, HGH Levels are inferred from serum Insulin-Like Growth Factor-1, which is a far more reliable measure. If you can find a doctor that doesn't require HGH Testing, you've likely found yourself in a sketchy situation, and you should see another doctor.
Our Hormone Clinic Offers Sermorelin Acetate to Patients
Our Hormone Clinic uses trusted and proven methods to determine your Hormone Needs, and we are proud to offer Prescription Sermorelin Acetate to our patients.
If you feel that you may be a candidate for Sermorelin, we can arrange for you to meet with a trusted physician in your area that will work with us to determine your Hormone needs.
All it takes is one appointment, and we can gather all the diagnostic data that we need to make a professional diagnosis in your best interest.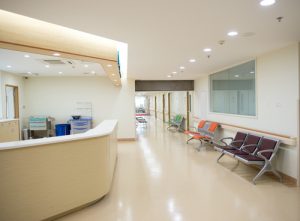 Avoid Sermorelin with GHRP 6 and GHRP 2
Bio-Identical Hormones prescribed by a licensed Hormone Specialist are safe, but there are nutraceutical blends of Sermorelin such as Sermorelin GHRP 2, Sermorelin GHRP 6, and Sermorelin Forte which combine Sermorelin with proprietary amino acid blends which purport to enhance the effectiveness of Sermorelin.
We strongly advocate that you avoid these formulations, and never attempt to obtain Sermorelin without a p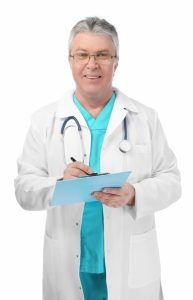 rescription.
These blends increase the risk of side effects and increase the risks associated with HRT Treatment. None of these Sermorelin blends have been approved by the FDA.
Low-Dose Sermorelin for Optimal HGH Results
Many patients are tempted to abuse Sermorelin or use more than the recommended dose.
For the best benefits with the lowest risk of side effects, Sermorelin should be employed only as a means to increase HGH Production to normal and healthy levels therapeutically. The goal is to reach the Golden Mean, which amplifies vitality without leading to adverse risk.
Reference
Contact Us For A Fast And Professional Response