Reading Time:
3
minutes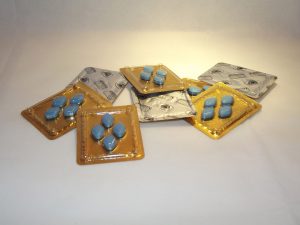 Research published last month in the Journal of Sexual Medicine revealed that guys that took ED Meds like Levitra, Cialis, or Viagra were significantly less likely to have experienced early mortality than the rest of their cohort. Furthermore, men using these drugs experienced fewer heart troubles.
PDE-5 Inhibitors Do More than Create Erections
These drugs belong to a class known as PDE-5is (phosphodiesterase type 5 inhibitors), which can also be used to medicate pulmonary hypertension. Viagra was invented by accident to help people with heart problems, so it makes sense that these drugs would have ancillary cardiovascular benefits for men.
Researchers reviewed the medical histories of 23,816 adult males from 2006 through Halloween of 2020 based on insurance claims. All of the men used drugs like Viagra at least once during the period. This data was contrasted with claims from 48,682 males that never used PDE-5is. Insurance claims offer a wealth of patient data that can be used to advance medical knowledge. It informs us of medical visits, procedures, hospitalizations, and prescriptions, among other healthcare experiences. This also helps us infer health outcomes for patients.
Contributors to this study came from the University of California (San Francisco), HealthCore Inc., and the Huntington Medical Research Institute. This medical data was drawn from the Healthcore Integrated Research Database, which stores insurance claim information from more than 50 million patients using commercial health insurance.
Researchers collected prescription data from Healthcore, and compared that information to the National Death Index. This United States government database gathers information regarding mortality outcomes for all recognized deaths across the country in order to advance medical knowledge, among other goals.
How Does PDE-5i Use Relate to Heart Health and Mortality Risk?
This study aimed to see how PDE-5i prescriptions related to short-term mortality risk. They tracked PDE-5i patients for a mean timeframe of 37 months, while the drug-free group was followed for a mean of 29 months.
The data was very promising for users of Cialis and similar medications. They were around 1/4th less likely to have died in the selected timeframe and also had a 13% lower incidence of a major cardiac event. Specifically, cardiovascular death rates were 39% lower, and several other cardiovascular events were significantly less frequent, including:
Unstable Angina down 22%

Heart Failure down 17%

Heart Bypass Surgeries down 15%
Researchers also analyzed differences in heart problems and death rates among patients taking PDE-5i drugs. They compared the quarter of patients that used the least of the medication to the quarter that used the most. The difference was 5.5 pills per patient vs. 191.2 pills per patient. Those that took less of the drugs were 55% more likely to have had a major cardiac event and were 51% more likely to have died over the timeframe tracked.
Viagra Users Are a Unique Cohort
While this doesn't directly prove causation, the data is still promising for men that are interested in maintaining a happy and healthy sex life. Men that are sexually active generally have a lower mortality rate than those that don't have sex. It's also true that men that aren't healthy enough for sex probably aren't taking Viagra. The group of men that opt for Erectile Dysfunction treatment have inherently different characteristics from those that never get a prescription.
Erectile Dysfunction Drugs Have Mechanism of Action Which Should Lead to Healthier Hearts
On the other hand, there are many reasons why these drugs would have a beneficial impact on mortality risk and heart health. PDE-5is provide sexual enhancement via the same mechanism that they can improve circulation. Drugs like Cialis and Levitra also act on your arteries, blocking phosphodiesterase enzymes in cardiovascular tissue.
This, in turn, helps the blood vessels dilate and get more blood to the heart. It's also hypothesized that these same drugs can reduce heart inflammation and prevent clots. Similar drugs are increasingly prescribed for pulmonary hypertension. This research lays the groundwork for more intensive research investigating the incredible potential of drugs like Viagra to change people's lives.
Contact Us For A Fast And Professional Response